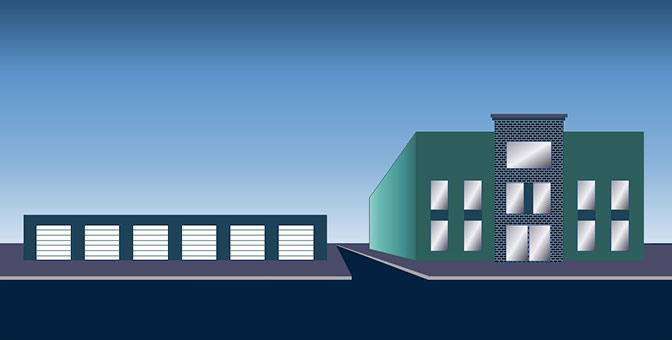 As we navigate out of the pandemic crisis, we expect previous macro industry trends to continue, and even accelerate. One trend is new starts. Existing stores may start seeing additional competition as new store development resumes. Sometimes, a store may even show up right next door. Perhaps the new store may even share the same curb cut!
The existing store's advantages.
The existing store owner has the key, first-mover advantage. That means costs are lower—earlier land and capitalized expenditures are lower. Lot sizes may be (quite a bit) larger than newly purchased lots. Loans to fund such expenditures are likely to paid off, or almost so. Interest expenses are then lower too. Profitability and cash flow, therefore, are higher.
However, compared to a new facility, the aging facility may look run-down. The design itself may look dated. The number of units per square foot of lot is typically far less; in other words, land usage may be less efficient. Mining for additional income by adding units to the existing lot means costly building upgrades and rebuilds. Moreover, cost of maintenance may be higher.
The new store's advantages.
The new store has all the advantages of being "new". It can realize the benefits of the latest self-storage amenity and facility innovations. Desirable characteristics—updated design aesthetics, climate control, power, security, and lighting—can be built in. Together, they provide the customer a seamless, worry-free experience. Because everything is new, maintenance costs will be lower (although new product innovations also mean more complexity).
At the same time, costs are higher compared to the early mover, older store. Costs to purchase land, develop, and construct the facility are all higher. This often forces the new store to have multiple floors to maximize land use, in lots that are often smaller. Multiple floors mean elevator use, making customer access more difficult. Even ground floor units may require entry into a building first, rather than direct drive-up access.
It all comes down to convenience.
No doubt, over-supply will affect business and profitability overall. However, competition will remain at the local level. The older facility will likely need cosmetic upgrades, such as new paint and store façade. Perhaps the existing operator may choose to upgrade security, lighting, pavement, and other amenities. In total, these expenses are relatively miniscule compared to the new store.
From the customers' perspective, it all comes down to convenience. Unit access is one of the biggest convenience factors in self-storage.
The older store, with single-story units and many with drive-up access, has a big advantage. Therefore, it can premium price such highly convenient units. The newer store, as mentioned earlier, has its advantages and opportunities to premium price units with more amenities. At the same time, it may have many units that require "standard" pricing.
A perfect world.
Let us say, indeed, the new store shares the same curb cut as the older one. It is as if the two stores are one. In a perfect world, each storage unit has a specific convenience level and is priced accordingly. The convenience level targets a specific customer type and need, thereby minimizing competition.
But with two competing store operators, pricing might be a "race to the bottom", decimating profit potential of either operator. This effect is further exacerbated by both operators' lack of visibility into each other's pricing strategies.
The good news is that the perfect world is closer than you think. In the self-storage industry, revenue management technologies are now available to automatically track competitor's published rates, develop a convenience-based pricing strategy, and execute the strategy seamlessly with existing property management systems.